Waterproofing materials and exterior materials are used for roofs and rooftop parking lots of large stores, roofs and exteriors of buildings and condominiums, and all other buildings. They protect buildings from deterioration caused by wind and rain and ultraviolet rays.
In addition, we provide construction materials to the building and civil engineering industries in a wide range of ways by offering solutions to diversifying and multipurpose needs, such as finishing materials and repair and reinforcing materials suitable for extending the life and earthquake-proofing concrete structures such as bridges and tunnels that are becoming increasingly aging, lining materials for water and sewage facilities, and slope and ground improvement materials for mitigating damage from natural disasters and for ground liquefaction countermeasures.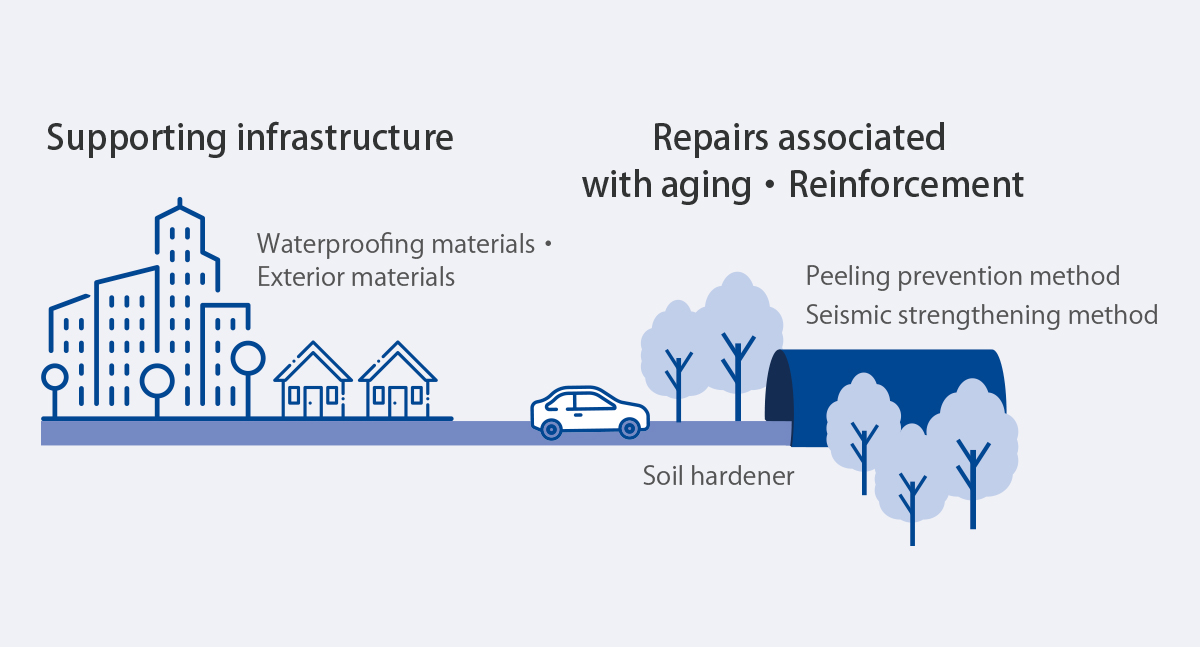 Trading results
Industry in which products handled are active
Civil engineering, Construction, Environmental related, etc.
Advantages of SHIMADA&CO.,LTD
01

Deep relationship with major manufacturers

Wide variety of business partners
02

Deep knowledge and understanding of building materials

High expertise
03

Respond precisely to the requirements

Careful and rapid response
The building materials business is a field in which we need to have a thorough knowledge of a wide variety of applications and specialized knowledge. Based on this knowledge, we propose a product that meets the objectives accurately and with a sense of speed, among a large number of options. We will further utilize the experience and motivation we have accumulated.
Examples of applications in business, examples of products
Expressway piers, Bridges, Tunnels, Water purification plants, Half-folded roofs, Factory floors, Rooftop parking lots, Balconies, Slopes, and Ground improvement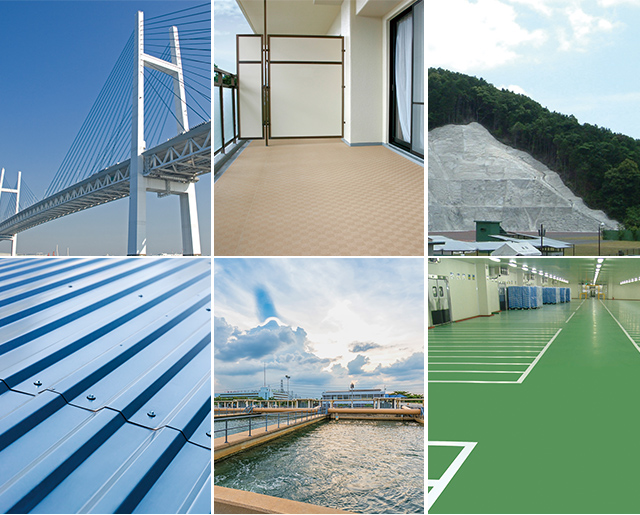 Growth Strategy
Future Development
Leveraging our long experience and information network as a trading company specializing in chemical products, we have worked hard to deliver various building materials to a wide range of buildings with a deep knowledge.
What is becoming apparent is the problem of the aging of buildings. Generally speaking, the life of concrete is said to be 50 years, and it is said that 40000 tunnels nationwide need to be repaired. In repairing and reinforcing the facilities that support living infrastructures, such as tunnels, roads, and dams built during the high economic growth period, we will propose new products and provide advice on construction methods to support safe life.
Efforts for Environmental Products
As part of our responsibilities to the era and the environment, our chemical-derived building materials operations are striving to provide environmentally friendly products for construction and civil engineering materials.
In addition to solvent-free and water-based waterproofing materials, inorganic waterproofing materials, and desolvent-type products such as hydraulic urethane coating flooring materials, we are actively engaged in products that are environmentally friendly to global warming, such as rooftop and slope greening methods, and solar heat reflection paints.
Products
Waterproofing material

Urethane, Rubber Sheet, FRP, PVC Sheet, Acrylic Rubber, Polymer Cement-Based, Inorganic Penetrating Exterior Material

Flooring material

Epoxy, Urethane, Acrylic, FRP, MMA, Hydraulic urethane, PVC sheet

Repair and reinforcement

Carbon fiber sheet, Aramid fiber sheet, Epoxy resin, Non-shrink mortar, Water repellent, Low pressure resin injection method

Lining material

Epoxy resin, Polyurea, Urethane, FRP, Acid resistant mortar

Slope and Ground Improvement Materials

Vinylon fiber, Polypropylene fiber, Greening vegetation material, Jet grout admixture, Various soda, Hardener, Sewerage repair material, Water stopping material, Cement admixture, Construction waste soil treatment agent, Cement hardener

Other products

Repairing kit capable of opening road in early stage, Weather meter, Ultra-fast curing urethane/urea spraying machine
Major manufacturers
ACHILLES CORPORATION
ADEKA Corporation
AGC POLYMER MATERIAL Co., Ltd.
ARONKASEI CO., LTD.
ASAHI KASEI ADVANCE CORPORATION
Aica Kogyo Co., Ltd.
AOI Chemical Inc
Atomix Corporaion.
DAIICHI KASEI SANGYO CO., LTD.
DAINICHI CHEMICAL CO., LTD.
DAINICHI GIKEN KOGYO CO., LTD.
DAITAI KAKO CO., LTD.
Daiwabo Co., Ltd
EREWHON SYNTHSIS INDUSTRY CO., LTD.
FLOWRIC CO., LTD.
Pozzolith Solutions Ltd  
FUJI CHEMICAL CO., LTD.
Japan Composite Co., LTD.
KIKUSUI Chemical Industries Co., Ltd.
Kuraray Co., Ltd.
Konishi Co., Ltd.
Lonseal Corporation
MAEDAKOSEN CO., LTD.
MIZUTANI PAINT CO., LTD.
Mitsubishi Chemical Infratec Co., Ltd.
Mitsuboshi Belting Ltd.
Mitsui Chemicals Industrial Products Ltd.
NIHON TOKUSYU TORYO CO., LTD.
NIPPON VANDEX CO., LTD.
Narusekagaku Co., Ltd.
Nitta Chemical Industrial Products Co., Ltd.
OBANAYA CEMENTEX CO., LTD.
Ozeki Chemical Industry Co., Ltd.
RYOKO Co., Ltd.
SANYU REC .Ltd.
SHO-BOND MATERIALS CO., LTD.
SUZUKA FINE CO., LTD.
Sakai Chemical Industry Co., Ltd.
Sanko Colloid Chemical Co., LTD.
Sekisui Fuller Company, Ltd.
Showa Denko K.K.
Sowa Chemical Industrial Co., Ltd.
Sumitomo Osaka Cement Co., Ltd.
TAJIMA ROOFING INC.
TOAGOSEI CO., LTD.
TOYOBO CO., LTD.
Takiron Matex co., ltd.
Toso Sangyo Co., Ltd.
UNION KENZAI KOGYO CO., LTD.
YAMASO Co., Ltd.
(in alphabetical order)