This division deals in products produced by processing basic raw materials from monomers to polymers and various additives, such as acrylic and urethane derived from naphtha and epoxy derivatives. Their products range widely and support people's life from industrial applications to life-related materials from upstream of petrochemicals.
Building on the information and networks we have cultivated over our long history, we are linking the entire supply chain, from raw materials to products, and building a sales structure that spans a wide range of fields in Japan and overseas. By connecting companies with companies, technologies and technologies, and humans, we have also established a support system for research that is at the forefront of the times.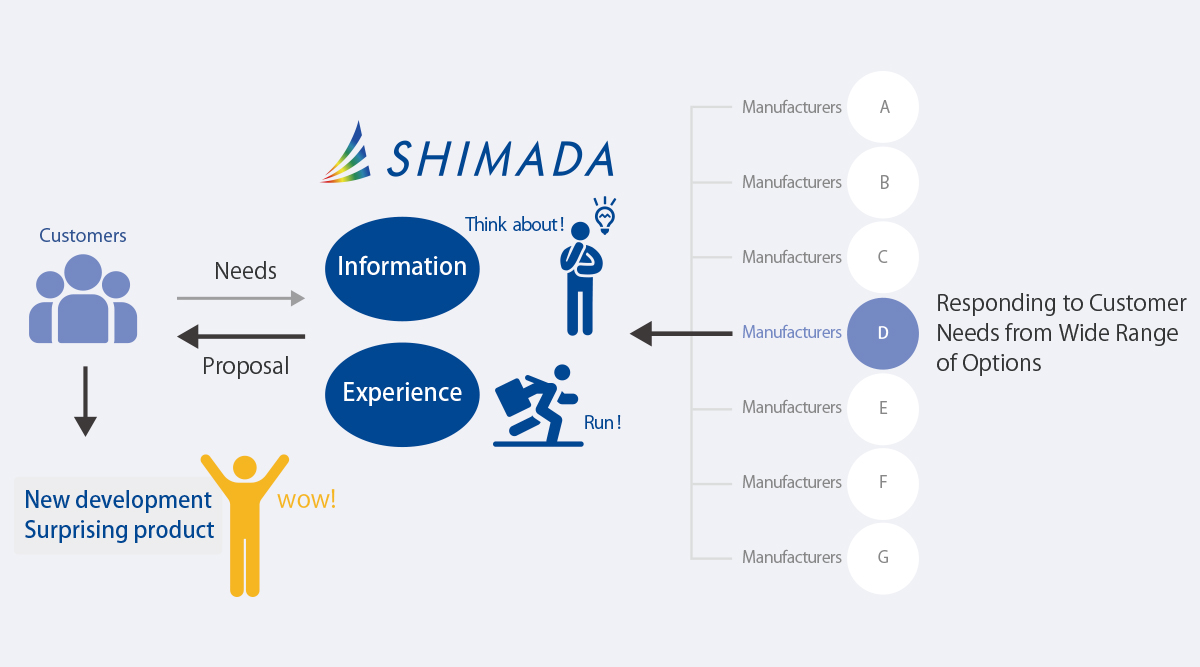 Trading results
Industry in which products handled are active
Paints and inks, adhesives, electronic materials, automotive, residential and construction, cosmetics, pharmaceutical and agrochemicals, daily use products, etc.
Advantages of SHIMADA&CO.,LTD
01

Diverse range of field from upstream of chemical

Provide products to all industries
02

Detailed and sincere response

Information-based solution
03

Responding to customers' demands with additional benefit

Ability to offer added value
Toward the development of ideal products that our customers think, we are working to produce better products that will help the world by making full use of our rich network and coordination capabilities.
One of our efforts is to propose various consignment processing.
Examples of applications in business, examples of products
Digital related (smartphone, in-vehicle, etc.), adhesive tape, paint and ink, medical supplies, and daily necessities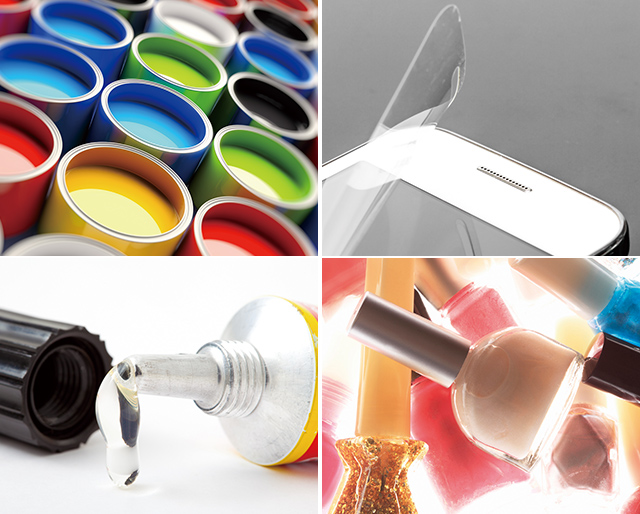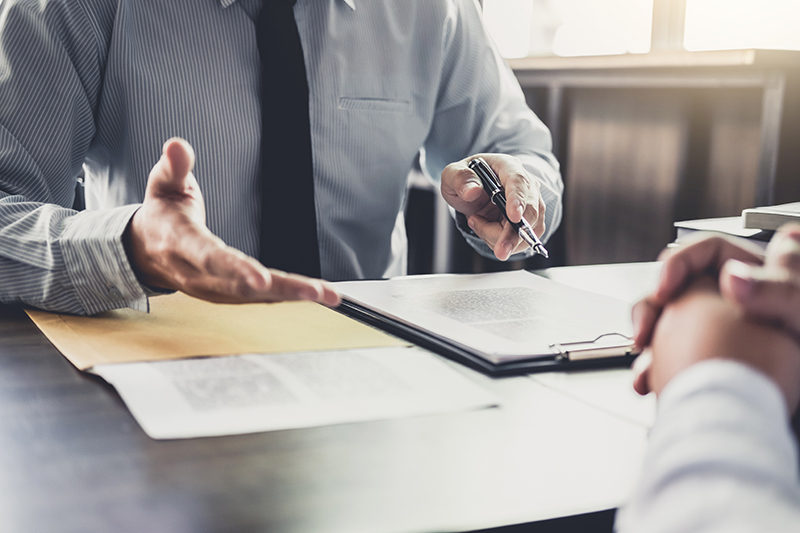 Growth Strategy
Future Development
This business has a wide range of products, including upstream chemical raw materials, and coatings, inks, and adhesives. From now on, we will aim to expand our business through further deepening in each field and the development of new customers and products.
In terms of overseas expansion, we will promote globalization so as to expand import and export transactions centered on East Asia to Southeast Asia, including Singapore and Vietnam, as well as India, the United States, and Europe.
Efforts for Environmental Products
The Chemicals Division provides environmentally friendly products that meet customer development needs while at the same time providing added value.
Natural-based products (monomers, oligomers, polymers)
Promotion of solvent-free products (water-based and emulsion, UV materials)
Various coating additives
Recycled solvent
Products handled
Various monomers

Acrylic Acid/Methacrylic Acid, Acrylic Acid/Methacrylic Acid Ester, Acrylamides, Acrylonitrile, Styrene Vinyl Acetate

Oligomers/polymers

(Meth) Acrylate oligomers, Urethane acrylate, Acrylic/Vinyl Acetate polymer (emulsion/solvent based, etc.), Various polyol, Isocyanate, Epoxy (main agent/curing agent)

Solvent

General-purpose solvents (toluene, xylene, ethyl acetate, various alcohols), Glycol ethers Specialty acetic esters, Thinners

Polymerization initiator

Photopolymerization initiator, Azo-based initiator, peroxide initiator, etc.

Functional coating agent

Hard Coating Agent, Antistatic Agent, Release Coating Agent, Antifogging Coating Agent

Fluorine material

Various monomer, PTFE, PVDF, etc.

Other

Polyvinyl alcohol, Silicone resin, Silane coupling agent, Inorganic filler (talc, barium sulfate, calcium carbonate, etc.)
Organic filler (acrylic and urethane fine particles), Surfactant, Plasticizer, Various containers Resin additives (antioxidants and ultraviolet absorbers)

Consignment

Polymerization, Reaction, Dispersion, Distillation
Major manufacturers
ADEKA Corporation
Daikin Industries, Ltd.
Dainichiseika Color & Chemicals Mfg.Co., Ltd.
DKS Co.Ltd.
Japan Coating Resin Corporation
JNC Corporation
Kuraray Co., Ltd.
Kyoeisha Chemical Co., Ltd.
Mitsubishi Chemical Corporation
Negami Chemical Industrial Co., Ltd
Nippon Carbide Industries Co., Inc.
Nippon Nyukazai Co., Ltd.
NOF CORPORATION
OSAKA ORGANIC CHEMICAL INDUSTRY LTD.
Shinko Organic Chemical Industry Ltd.
Shin-Nakamura Chemical Co., Ltd.
Showa Denko K.K.
SAIDEN CHEMICAL INDUSTRY CO.,LTD.
Toagosei Company, Limited
(in alphabetical order)