We handle
Synthetic resins widely used in household products, electrical appliances, automobiles, building materials, etc., such as methacrylic and polycarbonate, and Film processing that brilliantly colors printing, lamination and products. We also handle raw materials, processing, and commercialization of such products. A field that is rich in varieties and that has a wide range of applications requires deep and broad expertise. We play a role in linking resin and material manufacturers, processing manufacturers and user using our knowledge and experience. It is also true that information networks centered around us have created a good cycle for further information sharing.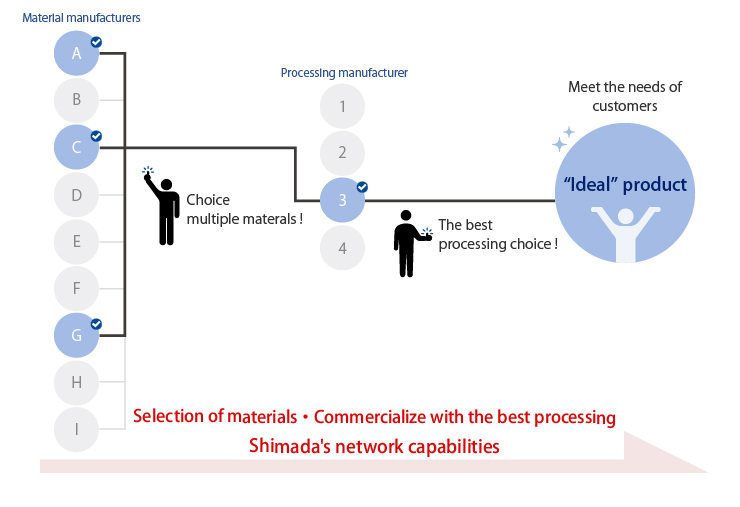 Performance
Industry for our products
Lighting, electronic materials, housing equipment, signboards, displays, packaging materials, vehicles, plant factories, robots, metalworking products, industrial ceramics, etc.
Advantages of SHIMADA&CO.,LTD
01

Approximately 3100 customers

based on a long history
02

Wide range of products
03

Reliable knowledge and a performance that has been achieved

over 100 years since its founding
We are working to open up our business in a manner that does not rely on existing common knowledge, such as raw materials + raw materials, raw materials + processing technologies, products-raw materials = new materials, etc.
Examples of applications in business, examples of products
Resins for LED lighting covers, bus interior materials and robot parts
Film lithium-ion battery materials, packaging materials and bags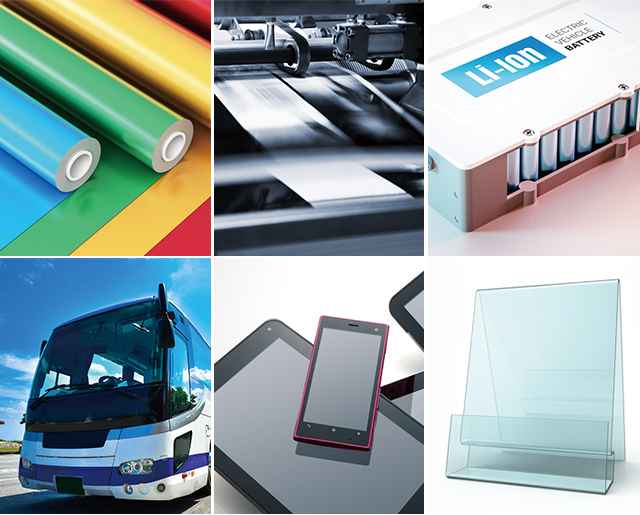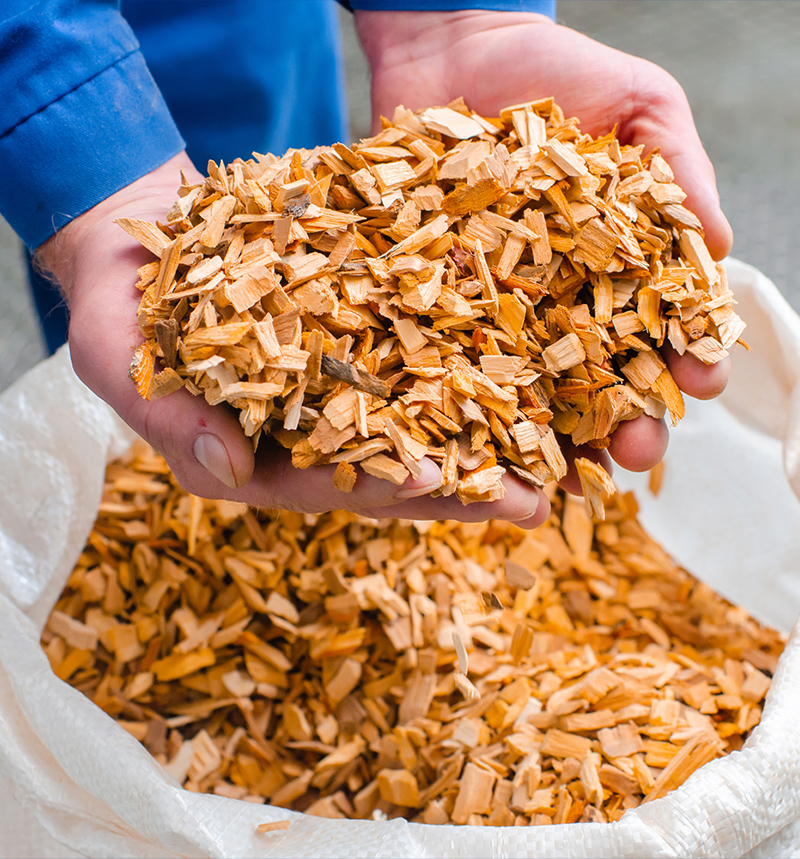 Growth Strategy
Future Development
In response to increasing social needs for environmentally friendly products, such as plastic reduction, plastic removal, and recycling, we are particularly focusing on environmentally friendly products.
As a chemical specialty trade company, we have long been dealing with "pulp" and will use our deep knowledge and network on environmentally-friendly materials derived from pulp (KC Flock, paper powder, wood powder, etc.) to contribute to product development and solution of problems in various business fields.
Efforts for Environmental Products
Sale of environmentally friendly raw materials (pulp, cellulose powder, CMC, paper powder, wood powder, etc.)
Fusion of environmentally friendly raw materials with resin materials (e.g., herbal residues + PE raw materials = environmentally friendly garbage bag with antibacterial function)
Propose and sell materials to resin manufacturers
Sales of environmentally conscious ingredients and compounded materials
Product sales on consignment ; compound (Alloy) technology proposal, etc.
Products handled
Raw Material

PMMA Resin ABS Resin AS Resin PS Resin PC Resin PA Resin POM Resin PVC Resin PP Resin Modified PPE/PPO Resin PET Resin PBT Resin PPS Resin Fluorine Resin TPE Resin EVA Resin Various Alloy Resins Various composite resins (such as carbon and wood flour) Resin modifier additives Other Engineering Plastics

Sheet

Methacrylic Sheet Polycarbonate Sheet ABS Sheet PVC Sheet PP Sheet PE Sheet G-PET A-PET Sheet GPPS HIPS Sheet MS Sheet Acrylic Modified PVC Sheet Aluminum Composite Sheet Mirror Sheet Multilayered Sheet Various Foamed Sheets Other Synthetic Resin Sheet Carbon Sheets

Plastic Products

Injection molded products Vacuum/pressure molded products Extruded products Blow molded products Special molded products FRP products

Film/non-woven fabric

PP (OPP/CPP/IPP) PE NY PET AL evaporated film (aluminum/transparent) synthetic material Natural material Short material Long fiber, etc.

Functional materials

Ceramics (boron nitride, etc.) Heat dissipation sheets (silicon-based heat dissipation sheets/non-silicon-based heat dissipation sheets) Industrial films (engineering plastics/super engineering plastics) Electrical and electronic components (aluminum base substrates, fluorocarbon films, etc.)

Other

Weather Resistant Tester Corrosion Resistant Pump Injection/Extrusion/Vacuum Molding Machine Environmental Products
Major manufacturers
AGC Inc.
ARONKASEI CO., LTD.
Achilles Corporation
C.I. TAKIRON Corporation
DAIPLA WINTES CO., LTD.
DENKA Company Limited
DIC COVESTRO POLYMER Ltd.
DIC Corporation
DSM Japan EP Co., Ltd.
Daikin Industries, Ltd.
Daio Paper Converting Co., Ltd.
FUTAMURA CHEMICAL CO., LTD.
HAGIHARA INDUSTRIES INC.
Hitachi Chemical Company
Hokuetsu Kasei Co., Ltd.
Idemitsu Unitec Co., Ltd.
J-Film Corporation
JSP Corporation
Kawakami Sangyo Co., Ltd.
Kimoto Co., Ltd.
Kuraray Co., Ltd.
Kyoto Nakai Shoji Co., Ltd.
LION IDEMITSU COMPOSITES Co., Ltd.
MITSUBISHI ENGINEERING-PLASTICS CORPORATION
Mitsubishi Chemical Corporation
Mitsubishi Gas Chemical Company , Inc.
Mitsui Chemicals, Inc.
NITTO JUSHI KOGYO Co., Ltd..
Okura Industrial Co., Ltd.
Panasonic Lighting Systems, Co.,Ltd..
Ryoko Co., Ltd.
SANWA SEISHI Co., Ltd.
SEKISUI SEIKEI Co., Ltd.
SEKON INDUSTRY Inc..
SUMICA ACRYL Co., Ltd.
SUN A .Kaken Co., Ltd.
SUN-TOX Co., Ltd.
Seikow Chemical Engineering & Machinery , Ltd.
Sekisui Kasei Co., Ltd.
Shin-Etsu Polymer Co., Ltd.
Sumika Polycarbonate Limited
Sumitomo Bakelite Co., Ltd.
Sumitomo Chemical COMPANY LIMITED.
TAMAPOLY CO., LTD.
Techno-UMG Co., Ltd.
Teijin Limited
Toray Industries , Inc.
Toyo Styrene Co., Ltd.
Toyobo Co., Ltd.
UACJ Foil Corporation
Unitika Ltd.
(in alphabetical order)