People


Achieving social and gender equality in which all people are active
Improvement of working environment
To support employees in balancing work and childcare, we expanded the short-working hours system, which was targeted at people under three years old, to elementary school entrance. We also encourage male employees to take childcare leave.
All employees are provided with PC and smartphones (e-mail viewing and e-approval can be done), and we have a system that can respond flexibly to telecommuting.
Unique training system
In addition to the existing new employee training, mid-level employee training, and management training, we are implementing new management training programs.
Language training (English and Chinese) is switched to one-to-one individual training to further improve skills, and is targeted at all employees.
In the future, we will conduct training and rescheduling with the aim of revitalizing the seniors, and also engage in training for female employees.
Recruiting activities
In the future, we will actively incorporate mid-career recruitment in addition to regular recruitment, aiming for diversity (diversity of human resources).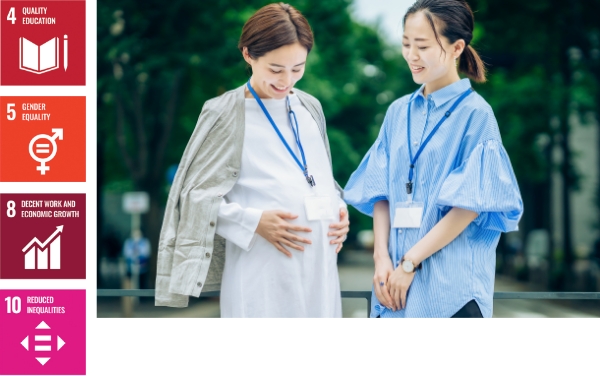 People


Achieving healthy and longevity
Promotion of health management
With regard to employee health management, we have established a Health Committee and work with industrial physicians to provide detailed responses to the results of health checkups and stress check-ups. In fiscal 2023, we will also expand our corporate subsidies for banning smoking among all employees during their working hours and for health checkup options aimed at early detection of serious illnesses.
In order to promote work-life balance, we will promote the systematic acquisition of paid leave and introduce employee benefit outsourcing services. We recommend active utilization.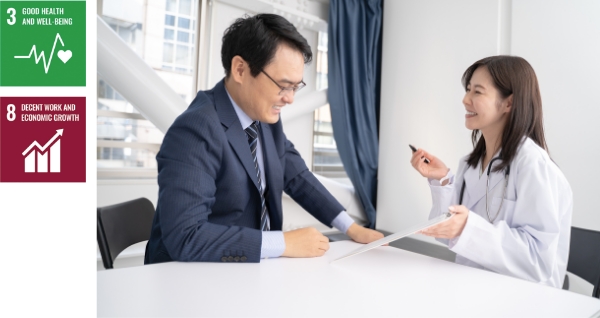 Peace


Realization of a peace, safety, and security society
Thorough compliance education
"Compliance Newsletter" is distributed monthly in cooperation with outside specialist companies. We also conduct bimonthly training for all employees in the workplace. In the future, we will use e-learning to refine our educational content.
Measures against harassment
To ensure that all employees are respected as individuals and can work in a healthy working environment. We are working to prevent harassment through harassment countermeasures, with the general manager serving as the contact point.
Safety measures
Since we are a business that handles chemical products, management is conducted in accordance with laws and regulations by employees who are qualified as hazardous material handling supervisors, poisonous and hazardous material handling supervisors, and high-pressure gas sales supervisors.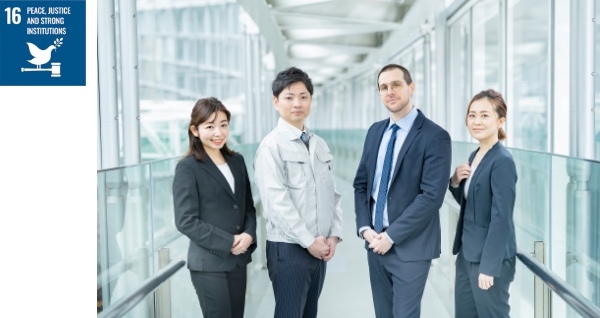 Partnership


SDGs Implementation Promotion System and Measures

In fiscal 2022, we established SDGs Promotion Committee, chaired by the president, after developing the existing Environmental Committee (an organization that promotes ISO14001). In addition to environmental management, the entire company is working on the two main themes of creating a comfortable workplace.
With regard to environmental management, the existing ISO Promotion Committee supports ISO activities on a bottom-up basis.