Plants that inhabit several 0.1 million species on Earth. All of them contain natural polymers called cellulose. The relationship between cellulose and human beings has long been widely used in paper and textiles for clothing.
We have long been in the chemical business, offering a variety of functional chemicals made from cellulose, lignin, hemicellulose, and other naturally occurring polymeric compounds. We also deal in high-functional synthetic polymer-based products, bio-products, and food additives.
We are continuing our efforts to provide advanced materials with more distinctive features that reduce the burden on the global environment and are safe and friendly to humans.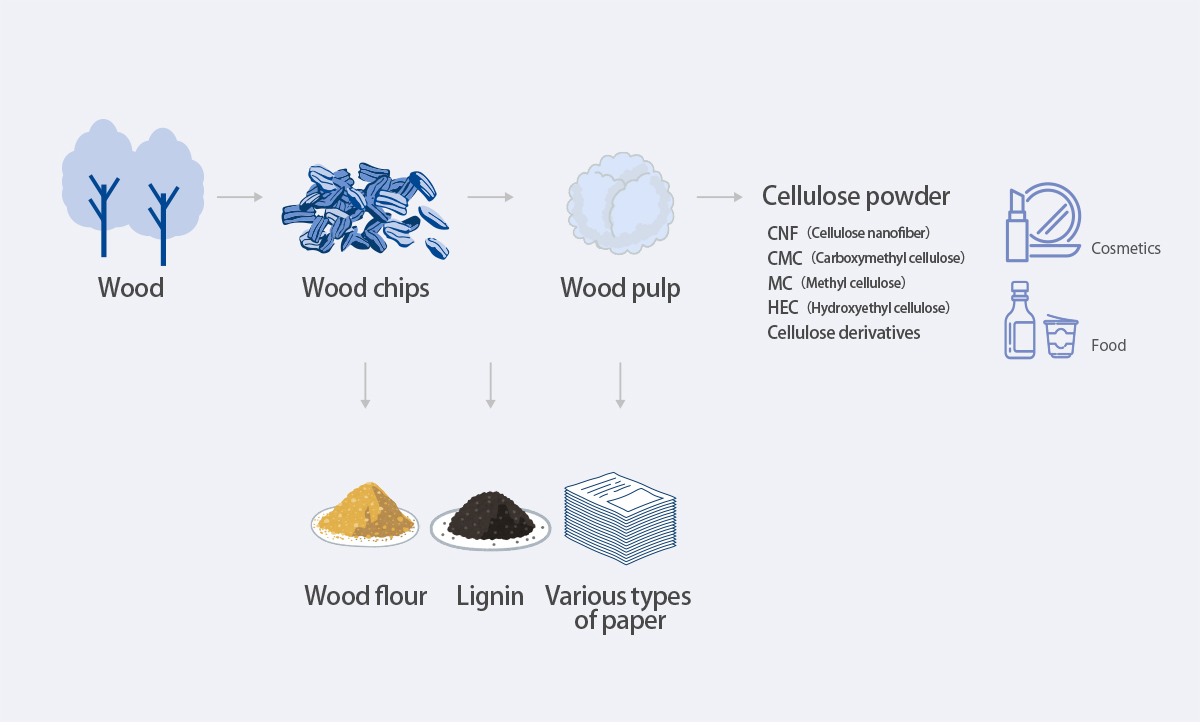 Trading results
Industry in which products handled are active
Medical, food, cosmetics, recycling, civil engineering and construction, agriculture, electronics, etc.
Advantages of SHIMADA&CO.,LTD
01

History of trade with the paper industry

Deep understanding of environmentally friendly materials
02

See the environment in collaboration between departments

Cross-sectional business development
03

Ability to apply environmentally friendly new materials

To propose new environmentally friendly products
Environmentally friendly products derived from polymeric compounds and other materials are also unexplored areas that have yet to exploit the potential of these products. We will expand our possibilities and create new business opportunities with the ideal powers backed by our experience.
Examples of applications in business, examples of products
Soil improving agent, Wood plastics, Cosmetics, Automobiles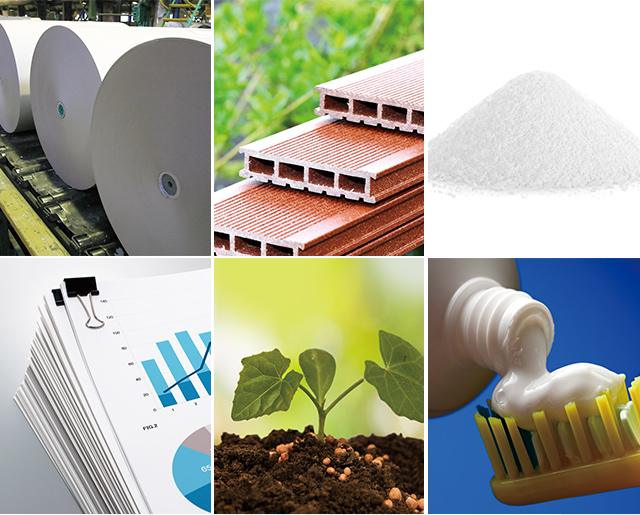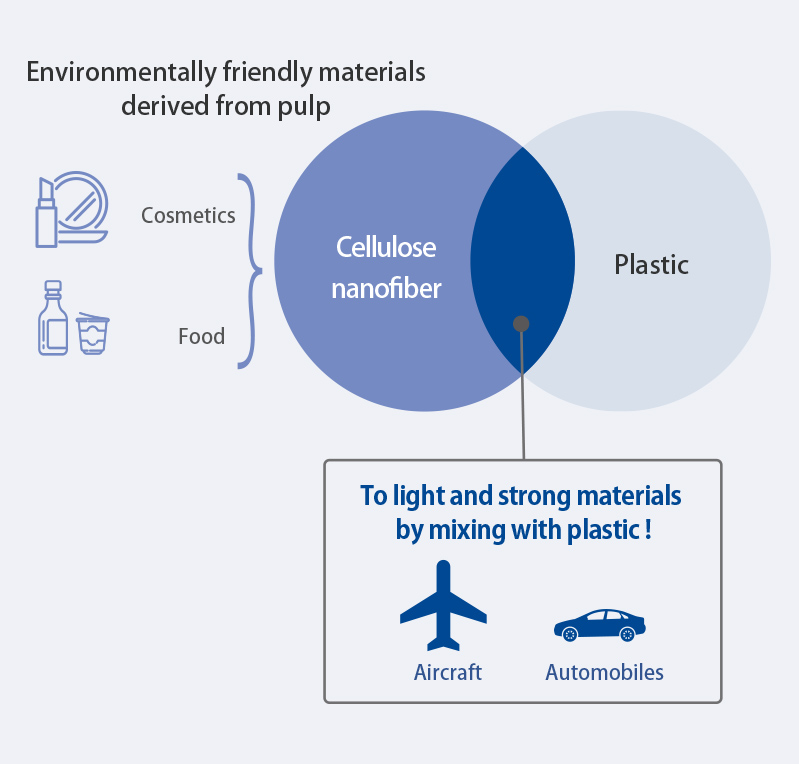 Growth Strategy
Future Development
The demand for environmentally friendly products has grown increasingly in recent years. We are strengthening our efforts to supply environmentally conscious products in cooperation with other divisions that go beyond the framework of business fields.
For example, CNF (Cellulose Nanofiber), which are attracting attention as the world's most advanced biomass materials, have features such as light weight, high strength, and high gas barrier properties, and are expected to be applied in a wide range of applications. We will contribute to the development of new environmentally-friendly products that utilize CNF and to the realization of a recycling-oriented community by utilizing forest resources.
Efforts for Environmental Products
Pulp, which can be obtained by pulverizing finely ground wood chips by chemical treatment or machinery, is transformed into wood fiber, a renewable resource such as cellulose derivatives, and is used in the production of CMC, powdered cellulose, and other products. By utilizing these products as much as possible, we aim to create products that are good for the body and friendly to the earth.
In addition, this business offers a wide range of environmentally friendly products, including wood plastics made from a hybrid of resin and wood flour.
Products
Adhesive for paper and film

Various synthetic resin emulsions

Rubber, Resin additives

Antistatic Agent, Ultraviolet Absorbent, Antioxidant, Flame Retardant, Stabilizer, Modifier

Food additives, food functional materials

Nucleic acid, Yeast extract, Stevia, Deoxidizer, Desiccant

Construction material

Concrete Mixing Agent, Water Reducing Agent, Ground Conditioning Agent, Mortar/Concrete Adhesive, Ground Resistance Reducing Agent

Various fillers

Calcium carbonate, Talc, Wastepaper pulverized product, Rice husk, Powder of walnut shells and peach pits.

Recycling Related

Recycled resin of containers and packaging, Recycled solvent

Consignment processing

Synthesis, Milling, Dispersion, Subdivision, Packaging, etc.
Major manufacturers
ADEKA Corporation
Chubu Saiden Co., Ltd.
DAIO PAPER CONVERTING CO., LTD.
DAISO CHEMICAL CO., LTD.
FLOWRIC CO., LTD.
Japan Coating Resin Corporation
KAJINO co., ltd.
KATO INDUSTRIES CORPORATION.
Kyoeisha Chemical Co., Ltd.
Kuraray Co., Ltd.
Koatsu Gas Kogyo Co., Ltd.
Matsumoto Yushi-Seiyaku Co., Ltd.
Mitsubishi Chemical Corporation
NICCA CHEMICAL CO., LTD.
NICHIRIN CHEMICAL INDUSTRIES, LTD.
NIPPON PAPER PAPYLIA CO., LTD.
Negami chemical industrial co., ltd.
Nippon Paper Industries Co., Ltd.
Nippon Refine Co., Ltd.
OSAKA SODA Co., Ltd.
OSAKA ORGANIC CHEMICAL INDUSTRY LTD.
SAIDEN CHEMICAL INDUSTRY CO., LTD.
SEKISUI SEIKEI CO., LTD.
Sanyo Chemical Industries, Ltd.
SANWA CO., LTD.
SHIN-NAKAMURA CHEMICAL Co., Ltd.
TEIJIN FRONTIER CO., LTD.
TOEI KASEI CO., LTD.
(in alphabetical order)