We acquired ISO14001 (Environmental Management System) in March 2011. Each business division sets its own environmentally friendly products and implements a PDCA cycle-based proactive sales expansion project-based on the commitment of senior management.
As a result, sales of environmentally friendly products account for more than one-third of total company sales (as of April 2023). While further growth is expected, this is positioned as an essential item for sustainable growth together with society.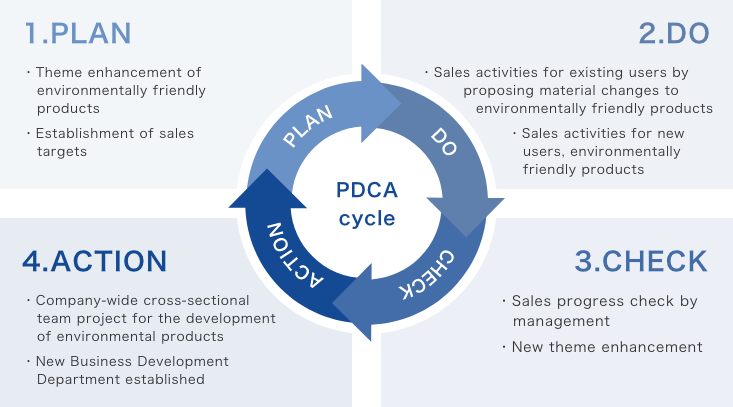 Prosperity


Creation of growth markets, regional revitalization, and technological innovation

Create a unique business domain that uses machinery that utilizes patented nanocomposite technology and mixes and reuses food waste, used diapers, and resins.
We are contributing to technological innovation by establishing a New Business Development Department.

In addition, the company is focusing on sales of materials for lithium-ion batteries for EV and sales of cellulose powders. Looking ahead, we will work to expand the scope of composite resins, particularly by utilizing patented technologies.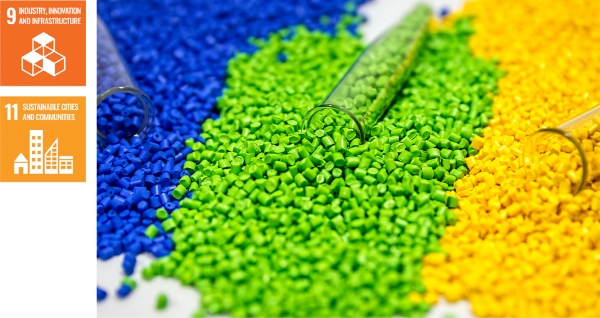 Planet


Sustainable and resilient soil and quality infrastructure development

Implemented earthquake-resistant reinforcement and sales expansion of repair materials for the purpose of extending the life of concrete structures, with important themes in the repair and reinforcement field such as infrastructure (roads and bridges) improvement. In the area of slope greening reinforcement, we are conducting activities to expand sales of materials that help disaster recovery and prevent disasters.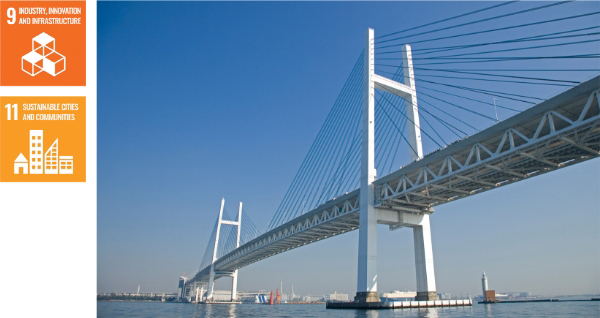 Planet


Saving and Renewable Energy, Climate Change Measures, Recycling-Oriented Society
Wide Provision of Environmentally Friendly Products
In addition to LED lighting materials※, which we have been focusing on for many years, we are expanding sales channels for recycled resins and recycled solvents.
The promotion of recycling-related businesses through the use of patented technologies also contributes to the creation of a recycling-oriented society.
※Compared to conventional lighting, LED lighting uses 1/3 less electricity and reduces CO2 emissions.
Company-wide ISO14001 Initiatives
We set quantitative targets for each year in accordance with ISO14001, such as turning off lights during lunch hours, reducing gasoline consumption through the use of HV cars, reducing meeting materials and other paperless operations, and green purchasing. In the future, we will promote IT such as electronic approvals and further promote paperless operations.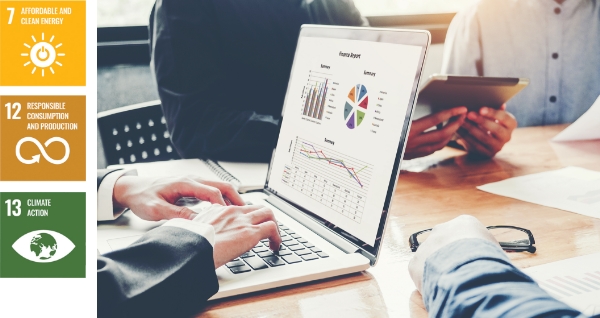 Planet


Environmental conservation of biodiversity, forests, coasts, etc.

We have acquired Forest Certification, a system for the use and protection of sustainable forests, and provide pulp made from appropriately managed certified timber. We are also focusing on expanding sales of natural-derived products.
On a company-wide basis, we are promoting further IT improvements in order to accelerate the shift to paperless operations (such as reducing the use of copy paper).